Welcome to the Compounders Podcast. On this show, Host and Investor, Ben Claremon, will explore the topic of compounding from various angles, including through interviews with public and private company executives, investors who focus on compounders, and newer investment firms that are building a business they hope will become more valuable over time.
Episodes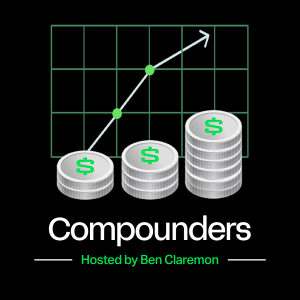 Tuesday Oct 19, 2021
Tuesday Oct 19, 2021
My guest on the show today is Adam Symson, the CEO of E.W. Scripps. Scripps is a 1.45 billion dollar market cap company that owns and operates local and national television stations. The company was founded in 1878 and over the years has operated within a number of different media businesses. The company spun off its cable TV business, Scripps Networks Interactive, in 2008 and then exited the newspaper business in 2015. These transactions served to focus the company more on its local TV business.
However, since becoming CEO in 2017, Adam has led an aggressive acquisition campaign that has created a large and differentiated National Media segment whose stations mainly operate over-the-air. The Scripps management team anticipated that cable TV subscribers would continue to cut the cord and through these acquisitions has positioned the company to benefit as more people choose to watch TV via an antenna.
Given all of the M&A activity and the dynamic nature of the pay-TV environment, I was excited to talk to Adam about:
- How competition from digital ad platforms like Facebook are impacting local TV advertising;
- The value of having a background in investigative journalism;
- The rationale for the pace of acquisitions that have occurred during his tenure;
- What it is like to work for a 100+ year old, family-controlled company; and
- How Scripps develops win-win relationships with its various stakeholders
This episode of Compounders: The Anatomy of a Multibagger is sponsored by Tegus, an innovative and disruptive company that is changing the way professional investors work. For more information, please visit: https://www.tegus.co/ 
Time stamps:
- 1:18 Introduction
- 2:54 The rise of social media advertising and its effects on paid TV media
- 5:20 The state of the local broadcast TV industry in 2021
- 7:10 Building a resilient culture in a volatile industry
- 9:39 The company ethos that comes from developing a $15 billion asset
- 11:29 Suffering short-term pain for a long-term gain in the podcast space
- 15:29 Capital allocation strategy in the media industry
- 18:55 How Scripps employs value investing as a media company
- 22:28 The logic behind acquiring the Katz network
- 26:13 Taking a big M&A swing during a global pandemic
- 33:15 Investing with Berkshire Hathaway as a partner
- 35:45 Creating win-win partnerships with various industry constituents
- 38:48 Navigating the unbundling movement as a media company
- 44:13 Balancing OTA and cable viewing within the same company
- 47:34 Investor concerns regarding the traditional media industry
- 49:49 The sports rights battlefield and the future of sports on broadcast TV
- 53:54 Why regulation in media needs to evolve
- 57:38 From investigative journalist to public company CEO
- 60:09 Assessing employee fit in a competitive job market
- 61:22 How Scripps wins over the next 5 years
- 62:51 Mistakes made over the first 4 years as CEO
- 64:34 ATSC 3.0 and the technological evolution of broadcast TV
- 66:38 Preparing for the future of broadcast TV
- 67:11 The most misunderstood aspects of Scripps
To get all the latest updates about the podcast, see who we'll have on next, as well as watch the video version of the pod, please follow us on twitter at @BenClaremon and subscribe to the SNN Network YouTube Channel at www.youtube.com/snnwire.
For more information about Cove Street Capital, please visit: https://covestreetcapital.com/
iTunes: https://apple.co/3xlUvPY
Spotify: https://spoti.fi/3jxkxLl
Each new episode will be available every Tuesday morning on Apple, Spotify and all podcast streaming platforms.
All opinions expressed by your hosts and the podcast guests are solely their own opinions and do not reflect the opinion of Cove Street Capital or any affiliates. This podcast is for informational purposes only, it is not investment advice, and should not be relied upon for any investment decisions. We are not recommending the purchase or sale of any securities. The hosts and guests may be beneficial owners of the securities discussed. You should not assume that the securities discussed are or will be profitable.